TrueVISNEW AP-640 Resin Printer

Build and expand your sign and graphics business with new applications, low running-costs, and the quick drying benefits of the world's first great resin printer.
High quality prints with high colour saturation
Fast drying print for quick turnaround and finishing
Built on the user-friendly and reliable TrueVIS platform
Do More with Resin Printing
The TrueVIS AP-640 redefines resin printing with high colour saturation on a wide range of materials. It features new TrueVIS resin ink and advanced machine features to optimise colour reproduction and expand your graphics to include a wide range of applications.
Everything You Need to Succeed
TrueVIS Printer
Support your business with premium, reliable hardware
VersaWorks 6 RIP
Power your workflow with our most intelligent engine yet
Premium Resin Ink
Get stunning results every time with economical Resin ink
 Roland DG Care Warranty
Secure your investment with industry-leading support
Putting Quality First with Clean and Safe Resin Ink Printing
Variable Dot Printing
Benefit from hundreds of dedicated, media-specific printing profiles that control optimal ink volume and drying temperature. An optimiser prepares the media surface facilitating the formation of precise dots while variable dot control technology creates unparalleled image quality never before seen in a resin ink printer.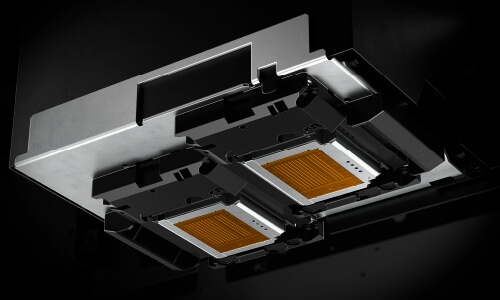 Dual Staggered Printheads for Resin Inks
Printheads are arranged in a dual, staggered formation with an optimizer printhead that preps the media surface for the CMYK printhead. This enables ink droplets to form a finer dot, resulting in more precise colour and images.
Premium Roland DG Resin Ink
The highly concentrated colour pigmentation enables heavier saturation than conventional resin inks for optimum impact on paper, fabric, canvas, wallpaper, non-PVC materials, and other media.
TrueVIS Resin inks are GREENGUARD Gold certified, meaning they meet strict standards of low chemical emissions making them ideal for indoor applications.
The True Rich Color preset takes full advantage of the high colour saturation of new TrueVIS Ink to maximize vibrancy and ensure neutral greys, smooth gradations, and natural skin ones.