Specifically formulated for Roland DG's range of VersaUV solutions.
Delivers stunning quality prints at all speeds, with high colour density and wide gamut.
Easily adheres onto a virtually limitless range of materials and substrates, both coated and uncoated, including plastics, wood, metal, foils, paper, films, vinyl and much more besides.
Dries immediately under low temperature LED lamps, with print jobs instantly ready for post-production.
Available in CMYK, orange, red, white, gloss and printable primer, for the fullest range of printing capabilities
Outstanding performance
ECO-UV ink offers superior scratch and chemical resistance, and a reliable outdoor durability. Producing graphics that can be stretched and applied around curved surfaces and edges without cracking.
Offered in CMYK, orange, red, white, gloss and printable primer, enabling a range of ink configurations. High-opacity white ink enables highlights, and rich, dense colours on clear materials, and gloss ink creates special effects, realistic textures and enables enhanced durability.
EUV5 Inks
Available with the new VersaUV LEC2 Printer/Cutter (excluding LEC2-300 model) and LEC2 S-Series Flatbed Printers, new EUV 5 ink offers significant cost savings versus previous generations, as well as further safety enhancements.
The orange and red ink options boost colour gamut, adding vibrancy, visibility and impact to create stunning printed graphics.
A new improved printable primer option offers even greater media compatibility. So, you can be safe in the knowledge that you'll deliver exceptional images print after print.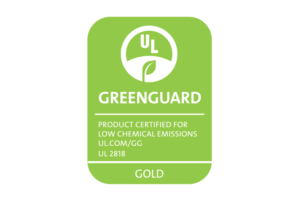 ECO-UV GREENGUARD Certified
ECO-UV inks are GREENGUARD Gold UL2818 certified.
This certification provides assurance that these inks meet some of the world's most rigorous and comprehensive standards for low emissions of volatile organic compounds (VOCs) into indoor air.
EUV5 inks (CMYK,Wh,Gl,Pr) are tested to meet the requirements of EN-71/3:2019 Safety of Toys Part3: Migration of certain elements standard*.
* Certification of the printed product is not guaranteed. It is the responsibility of the user printing the product to gain any certifications required and to bear the cost of any certification process. The toy manufacturer is responsible for compliance with legal requirements with toys.
Indoor Applications
ECO-UV ink delivers great results for indoor applications such as labels, packaging prototypes and POPs. For outdoor applications, EUV lasts up to two years when gloss is applied as a finishing process.
Unique Ink Configuration
VersaUV boasts a unique ink configuration that can include orange, red, white and gloss ink in addition to CMYK colours and primer. The high-opacity white ink is ideal for producing rich, dense colour graphics on clear, dark, opaque and even metallic substrates. The gloss ink adds capabilities that include high-gloss area highlighter (spot varnish), full flood gloss or matt finishing for added durability and special effects, such as three-dimensional textures and embossing by printing multiple layers of gloss ink. Orange and red ink further increases colour gamut, adding vibrancy and impact to graphics. The combination of these features enables the production of exclusive prints that command premium prices, while reducing considerably production costs over conventional workflows.
Print onto virtually any substrate
Droplets of EUV ink are cured by UV light immediately after they land on the surface of the media, leaving no time for the droplets to react or be absorbed by the media. This virtually eliminates any ink and media compatibility issues, meaning that VersaUV ink is able to adhere onto a wide variety of coated and uncoated media and 3D objects. Many stock media for equipment such as label printers and offset printers can be printed with VersaUV ink without any special treatment. The vast substrate compatibility of VersaUV ink means that users can print directly on three-dimensional objects such as awards, pens and giftware, acrylic plaques, golf balls, mobile phone covers and even laptop computers.
Which EUV ink for your device?
Our range of EUV inks have been formulated to match your VersaUV printer as follows:
• EUV 5 inks are available to use with the VersaUV LEC2 Printer/Cutters (excluding LEC2-300) and VersaUV LEC2 S-Series Flatbed Printers.
• EUV/EUV4 inks are available to use with the LEC2-300, LEJ-640 and LEF Series models.
• EUV S inks are available to use with the LEC2-300 and LEJ-640, stretching up to 220 per cent
All inks are available in CMYK, white and gloss (except EUV5 ink, which includes orange and red and EUV S ink, which is available in CMYK and white only).