Get in shape. Think smart. Mill in-house.
'DGSHAPE by Roland' takes 30 years of reliability and innovation and combines it with next-level production to meet the needs of today's growing lab businesses. Reliable, compact, precise and affordable, the DWX-52D 5-axis digital dental mill offers better disc handling, greater material capabilities, improved tool management and other enhanced features for even better efficiency.
Take control of your productivity, quality and turnaround time. Benefit from a streamlined workflow with the DWX-52D.
Impressive material versatility for a wide range of applications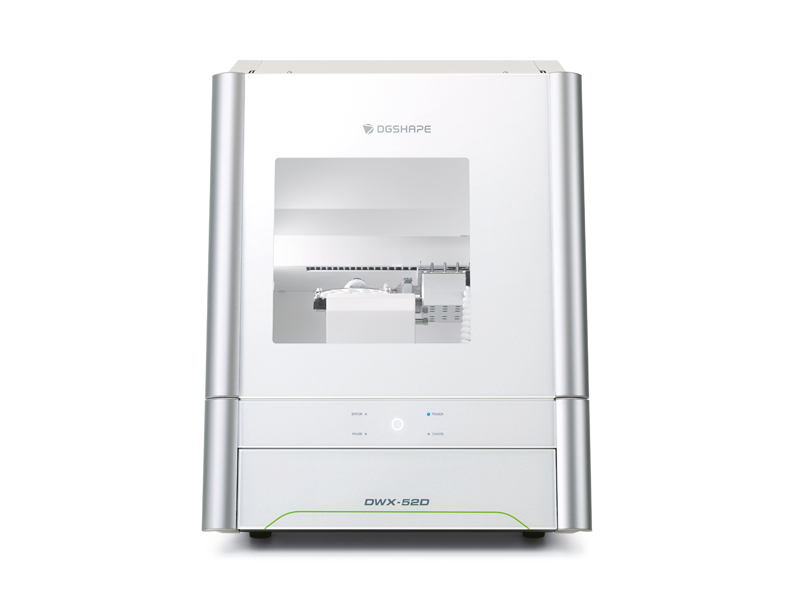 'The DWX-52D mills a wider range of performance materials, which allows the clinician to best meet the clinical and aesthetic needs of every patient.
Mill zirconia, wax and PMMA plus gypsum, PEEK, glass fibre-reinforced resin, composite resin and CoCr sinter metal material discs and blocks.
Typical applications include crowns, copings, bridges, inlays and onlays, veneers, abutments, implant bars, screw-retained crowns, dentures, models, surgical guides and bite splints.
Efficient milling set-up
A new snap-in clamp disc changing system with six included material adapters offers fast and secure set-up—eliminating mounting errors and minimising damage during disc insertion. To get the most out of each disc, re-inserted material adapters keep discs indexed to their original position for production that requires secondary milling or two-stage processing.
The included disc adapter rack ensures a highly organised and efficient workspace.
The snap-in system enables multi-device adapter integration. The same material adapters can be milled on both the DWX-52D and DWX-52DCi for a convenient and scalable milling solution.
Automated, unattended production
To minimise preparation work and time, the DWX-52D is equipped with an Automatic Tool Changer which automatically replaces milling burs without needing to pause production. Up to 15 burs can be set up in the magazine for efficient milling of a wide range of materials.
When connected to a compatible extraction device, the DWX-52D can send a signal to switch off the extractor when milling is completed.
This all means your DWX-52D can continue to mill long after you have gone home.
High quality, precision milling
A robust and steady ball screw-driven system mills high quality complex dental restorations. Simultaneously rotating and tilting discs through 5 axes of movement enables the milling of deep undercuts, large arch restorations and other full-mouth prosthetics. An air pressure system automatically changes the volume of air for the type of material being milled, eliminating air control errors during milling.
User-friendly operation
The DWX-52D replaces the complicated controls associated with CNC milling with an intuitive Virtual Machine Panel (VPanel) that automatically swaps out used burs (ITC function), conducts machine diagnostics, and provides one-touch device calibration.The VPanel will even send an email when the DWX-52D has finished milling.
Open architecture
The DWX-52D's open architecture gives you the freedom to work with your choice of the latest CAD/CAM software, scanners and materials which best suit your individual needs. If you are new to digital dentistry, your local reseller will be able to advise.
Designed to fit any work environment
Easy to integrate into your current workflow, the DWX-52D is a compact dental mill which fits into any lab. It also features an integrated ioniser which reduces static build up, helping to reduce the cutting residue when working with materials such as PMMA and maintaining a clean, pleasant working environment.
Multiple device connectivity
For laboratories requiring greater production capacity, up to 4 DWX-52D milling machines can be connected to 1 computer.
Peace-of-mind reliability and support
Roland has been at the forefront of advanced machine manufacturing for 30 years, providing practical and reliable technology with unmatched service and support.
'DGSHAPE by Roland' further delivers on this reliability promise and makes it incredibly easy for labs to produce high quality, cost-effective dental prosthetics, while improving workflow efficiencies.
'DGSHAPE by Roland' ensures that your machine is always up-and-running with a XX warranty plus support from a network of dedicated dealers and certified service engineers. From our helpful customer support team to an abundance of training and education, 'DGSHAPE by Roland' cares about your needs before and after your machine purchase.