VersaUV LEJ-640 / Hybrid UV-LED Flatbed Printer
The LEJ-640 UV Hybrid Printer represents the height of print innovation by offering both sheet-fed and roll-to-roll printing in a single device. Printing CMYK, White and Gloss inks on virtually any substrate up to 13mm thick, the LEJ is capable of producing a huge range of wide-format graphics.
Hybrid Printing made easy
Print on rolls of paper and film and then simply attach the rear and front folding tables in minutes to enable printing on full-sheets of rigid media and display substrates.
Explore new substrates, products and markets  
The LEJ-640 hybrid UV LED flatbed printer opens your business up to new possibilities in custom products and displays. Create everything from packaging prototypes and POP's to wide-format signage, décor, exhibits, custom printed upholstery, window displays and more.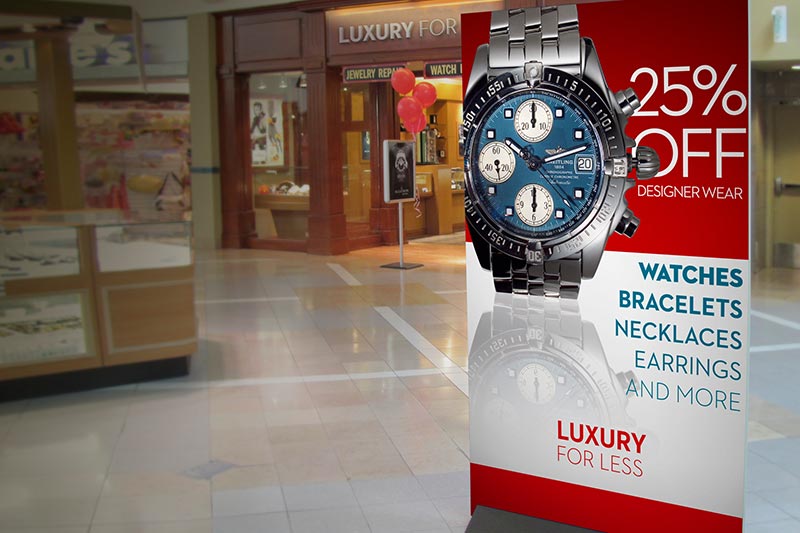 Advanced ECO-UV inks
Instant drying and flexible, ECO-UV ink delivers high density and a wide colour gamut. Choose from two formulations – original ECO-UV in CMYK, White and Gloss. ECO-UV formulation produces prints that require no degassing and can be stretched around curved surfaces and edges without cracking.
One of the most powerful features of the VersaUV is the ability to use ECO-UV Gloss ink to create a wide range of special effects, from matte or gloss finishes to stunning spot treatments. By laying down multiple layers of Gloss ink, it's simple to simulate embossing as well as create truly unique custom-textured effects from water droplets to faux leather to crocodile skin – even Braille.
The proof is in the print
The LEJ-640 hybrid UV LED flatbed printer is compatible with leading proofing software for those requiring detailed proofing. These include Fiery XF RIP, EFI Color Proof XF, GMG Color Proof, Color Tuner and CGS ORIS FlexoProof/Dot Proof. For precise color management, Roland offers X-Rite's i1Basic Pro 2 for calibrating your monitor to display accurate digital color.
Amazing media handling
Versatility is what sets the LEJ-640 UV inkjet apart. With its combined roll-fed and rigid sheet capabilities, it allows users to print on a vast array of sign, display, décor and art materials, such as:
Foam board, Banner film, Fabric, Corrugated cardboard, Vinyl, Artist canvas, SBS board, Synthetic papers
Τέσσερις Συνδυασμοί Μελανιών
Four ink configurations including Clear Coat ink.
ECO-UV inks adhere to a wide range of treated and untreated substrates and offer unmatched colour gamut and image definition. They produce prints that require no degassing and can be stretched and applied around curved surfaces and edges without cracking. ECO-UV inks are packaged in convenient 220cc cartridges.
The LEJ-640 features a Gloss ink option for producing stunning texture effects, including matt, gloss varnish and embossed finishes. Offering superior protection for scratch and chemical resistant graphics, ECO-UV can last up to six months on outdoor applications with ECO-UV ink lasting up to two years when used in combination with a Gloss coat.
To ensure simple ventilation set-up for use with Eco-UV inks, the LEJ-640 features a ventilation hood for easy connection to an air filtration system.
Eliminate head strikes with smart sensor technology
The LEJ-640 has a built-in sensor to check for proper media thickness, preventing head strikes and ensuring reliable printing on the widest range of substrates.
Built to Last
The LEJ-640 is a UV LED Printer that's built to last, with an all-steel frame with front and rear folding tables that reduces vibration, and is designed for solid and stable support of industry standard 1219mm (4″) x 2438mm (8″) sheet materials weighing up to 12kg (26lbs). The roll-to-roll mechanism easily loads and feeds extra-large media rolls that weigh up to 40kg (88lbs).
VersaWorks™ Dual RIP
The LEJ-640includes new VersaWorks Dual RIP software, featuring a new core engine for faster previewing times and improved handling of PDF and EPS files, including files with drop-shadows and transparencies.
VersaWorks Dual minimises the need to return to design software as you can set-up special colour layers like White and Gloss directly in the RIP software. You also get a host of advanced and ease-of-use features including a Predictive Ink Calculator, spot colour replacement with built-in PANTONE® libraries and a Roland Texture System Library with a wide range of ready-to-use Gloss finishes and other effects.
Roland Intelligent Pass Control 
Across a wide variety of applications and media, Roland Intelligent Pass Control technology delivers outstanding image quality in all print modes while virtually eliminating any signs of banding. This patent-pending system ensures that graphics look great when viewed indoors or outdoors, up close and at a distance.
Using ink efficiently 
The LEJ-640's Automated Ink Circulation System increases image quality while lowering running costs. It prevents pigments from settling in the ink lines and provides a consistent ink density that reduces waste and produces exceptional image quality, even on long print runs.
Powerfully efficient and ozone-free LED lamps
The LEJ-640 UV LED Printer features LED lamps that cure fast and expedite print production. Lasting up to 10,000 hours – ten times longer than conventional UV curing lamps, the lamps operate at a very low-heat and enable printing on heat-sensitive materials without substrate damage. They can be instantly turned on or off for a true on-demand operation that requires no warm-up time.
Easy and energy-conscious electrical set-up  
The LEJ-640 offers the lowest power consumption in its class and unlike other wide format printing technologies, it simply requires a standard electrical outlet without additional power supply or set-up.  Requiring a fraction of the power that competitors' flatbed printers demand, it significantly saves on electrical costs each year.
Worry-free take-up systems
The LEJ-640 includes an automated media take-up system for unattended roll-stock printing, with optimum media feed and tracking
Roland OnSupport
OnSupport further enables unattended production and optimizes workflow by delivering e-mail alerts to your computer or smart phone when ink is running low or a job has been completed
Model
LEJ-640
Printing technology

Piezoelectric inkjet

Media
Width

Roll media : 210 to 1625 mm (8.3 to 64 in.)




Rigid media, cut media : 250 to 1625 mm (9.9 to 64 in.)

Thickness

Roll media : Max. 1.0 mm (39 mil) with liner




Rigid media, cut media : Max. 13 mm (0.51 in.)

Weight

Roll media : Max. 40 kg (88 lb)




Rigid media, cut media : Max. 12 kg (26 lb)

Roll outer diameter

Max. 210 mm (8.3 in.)

Core diameter*1

76.2 mm (3 in.) or 50.8 mm (2 in.)

Printing width*2

Max. 1615 mm (63.6 in.)

Ink
Type

ECO-UV INK / ECO-UV S INK

Capacity

220 cc / 500 cc

Colours

ECO-UV INK: 6 colours (Cyan, Magenta, Yellow, Black, White, Gloss)




ECO-UV S INK: 5 colours (Cyan, Magenta, Yellow, Black, White)

Print resolution (dots per inch)

Max. 1440 dpi

Distance accuracy*3

Error of less than ±0.3% of distance travelled, or ±0.3 mm, whichever is greater

Media take-up system
Roll outer diameter allowing take-up

Max. 210mm (8.3in.)

Weight allowing take-up

Max. 40kg (88lb)

Connectivity

Ethernet (10 BASE-T/100 BASE-TX, automatic switching)

Power-saving function

Automatic sleep feature

Power requirements

AC 100 to 240 V ± 10%, 5.7A, 50/60 Hz

Power consumption
During operation

500 W

Standby mode

15.2 W

Acoustic noise level
During operation

64 dB (A) or less

Sleep mode

40 dB (A) or less

Environment
Power on*4

Temperature: 20 to 32°C (68 to 90°F) [22°C (72°F) or higher recommended] , humidity: 35 to 80% RH (no condensation)

Power off

Temperature: 5 to 40°C (41 to 104°F), humidity: 20 to 80% RH (no condensation)

Dimensions (with stand)
With table unit *5

3184 (W) × 3658 (D) × 1281 (H) mm (126 × 145 × 51 in.]

Without table unit *5

3184 (W) × 836 (D) × 1281 (H) mm (126 × 33 × 51 in.)

Weight (with stand)
With table unit *5

316 kg (697 lb)

Without table unit *5

240 kg (530 lb)

Included items

Roland VersaWorks Dual RIP Software, stand, table unit (RU-640 and MB-640), power cable, media clamps, replacement blade for separating knife, User's Manual, etc.
*1 The media holder of this machine is exclusive use for the media of paper tube (core) inner diameter 76.2 mm (3 in.). To use 50.8 mm (2 in.) media, the optional media flanges are required.
*2 The length of printing is subject to the limitations of the program.
*3 Media type: Media specified by Roland DG Corp. Temperature: 25°C (77°F), humidity: 50%RH. Roll media must be loaded correctly. Excluding expansion/contraction of the media. All correction or adjustment function of this machine has been made properly. The grit rollers are positioned correctly on top of the media. With Roland PET film, print travel: 1 m. When not using table unit.
*4 Operating environment.
*5 The "table unit" indicates RU-640 and MB-640.
Specifications, designs and dimensions listed may be subject to change without notice.
Roland VersaWorks Dual System Requirements
Operating system

 Windows® 10 (32/64 bit), Windows® 8.1 (32/64 bit), Windows® 7 Ultimate / Professional (32/64 bit)

Hard-disk file system

NTFS format 

CPU

Intel® Core™2 Duo, 2.0 GHz or faster recommended

RAM

2 GB or more recommended

Video card and monitor

A resolution of 1280 x 1024 or more recommended

Free hard-disk space

40 GB or more recommended

Ethernet Connection 

100 mbps  

Other

Internet connection recommended
Roland VersaWorks Dual is a 32-bit application and therefore runs in WOW64 (Windows-on-Windows 64) when running on 64-bit versions of Windows operating systems.
| Model | Description |
| --- | --- |
|  EUV-CY |  Multi-application ECO-UV Ink Cyan, 220cc |
|  EUV-MG |  Multi-application ECO-UV Ink Magenta, 220cc |
|  EUV-YE |  Multi-application ECO-UV Ink Yellow, 220cc |
|  EUV-BK |  Multi-application ECO-UV Ink Black, 220cc |
|  EUV-WH |  Multi-application ECO-UV Ink White, 220cc |
|  EUV-GL |  Multi-application ECO-UV Ink Gloss, 220cc |
|  EUV3-CY |  Multi-application ECO-UV3 Ink Cyan, 220cc |
|  EUV3-MG |  Multi-application ECO-UV3 Ink Magenta, 220cc |
|  EUV3-YE |  Multi-application ECO-UV3 Ink Yellow, 220cc |
|  EUV3-BK |  Multi-application ECO-UV3 Ink Black, 220cc |
|  EUV3-WH |  Multi-application ECO-UV3 Ink White, 220cc |
|  EUV3-GL |  Multi-application ECO-UV3 Ink Gloss, 220cc |
|  EUV4-CY |  Multi-application ECO-UV4 Ink Cyan, 220cc |
|  EUV4-MG |  Multi-application ECO-UV4 Ink Magenta, 220cc |
|  EUV4-YE |  Multi-application ECO-UV4 Ink Yellow, 220cc |
|  EUV4-BK |  Multi-application ECO-UV4 Ink Black, 220cc |
|  EUV4-WH |  Multi-application ECO-UV4 Ink White, 220cc |
|  EUV4-GL |  Multi-application ECO-UV4 Ink Gloss, 220cc |
|  EUV4-5CY |  Multi-application ECO-UV4 Ink Cyan, 500cc |
|  EUV4-5MG |  Multi-application ECO-UV4 Ink Magenta, 500cc |
|  EUV4-5YE |  Multi-application ECO-UV4 Ink Yellow, 500cc |
|  EUV4-5BK |  Multi-application ECO-UV4 Ink Black, 500cc |
|  EUV4-5GL |  Multi-application ECO-UV4 Ink Gloss, 500cc |
|  EUVS-CY |  Stretchable Eco-UVS Ink Cyan, 220cc |
|  EUVS-MG |  Stretchable Eco-UVS Ink Magenta, 220cc |
|  EUVS-YE |  Stretchable Eco-UVS Ink Yellow, 220cc |
|  EUVS-BK |  Stretchable Eco-UVS Ink Black, 220cc |
|  EUVS-WH |  Stretchable Eco-UVS Ink White, 220cc |
|  SL-CL |  Cleaning liquid cartridge, 220cc, 1pc |
|  11849102 |  Sheet cut blades, 25 pcs |
|  BOFA – L2044A8202 |  Air purification unit |